Sunderland bridge: New Wear crossing work to start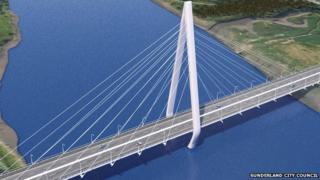 Work is due to start on a new multimillion-pound road bridge over the River Wear in Sunderland.
Crossing the water between Castletown and Pallion, the three span cable-stayed structure will be supported by a 115m (379ft) A-frame pylon.
It is expected to be completed by spring 2018.
Earlier plans for a 590ft (180m) high bridge - which would have been England's tallest - were scrapped in 2013.
Sunderland City Council said it could not be built within the £118m budget.
Labour council leader, Paul Watson, said the new bridge would be "one of the region's biggest civil engineering projects".
"By improving links between the A19, the city centre and the Port of Sunderland, a new bridge has always been a key part of Sunderland's ongoing regeneration," he said.
"We cannot overstate the massive economic, social and community impact this project is bringing."
Twice as high as Gateshead's Millennium Bridge, the crossing will have footpaths, cycleways and two traffic lanes in each direction.
The city council is contributing just over £35m to the costs, with the government funding £82.5m.
The construction contract has been awarded jointly to Farrans Construction and Victor Buyck Steel Construction.