Legionnaires' disease warning at Boldon Faltec factory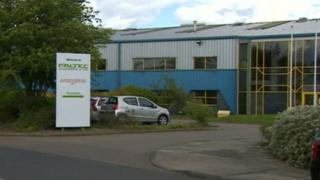 People living near a South Tyneside factory where there has been an outbreak of Legionnaires' disease have been warned to watch out for symptoms.
Public Health England (PHE) said there had been three confirmed cases at Faltec in Boldon, and a local resident was suspected of having contracted it.
The company has disinfected possible sources of the infection, including cooling towers and other water systems.
It also said it was co-operating fully with the ongoing investigation.
PHE said that the suspected case was a resident whose garden overlooked the factory boundary, and advised workers and residents who developed a chest infection or other respiratory symptoms to contact their GP.
Dr Tricia Cresswell, from the North East PHE Centre, said: "Legionnaires' disease does not spread from person to person and can only be contracted from the source of the contaminated water.
"Due to the incubation period of Legionnaires' disease, it is believed that the people who have been ill were all exposed to the legionella bacteria before control action was taken by the company.
"We are not aware of any new cases infected since the factory took action to treat and disinfect water sources, but we are continuing to work closely with HSE (Health and Safety Executive) and PHE to confirm and control any possible sources of infection on the factory site."