Northumbria Police: Steve Ashman is new chief constable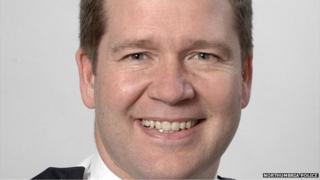 Northumbria Police has appointed Steve Ashman as the new chief constable.
Currently Northumbria's deputy chief constable, Mr Ashman takes over from Sue Sim, who announced her retirement earlier this year.
Mr Ashman had been the preferred candidate of Northumbria's police and crime commissioner Vera Baird.
Ms Sim recently apologised for upsetting some officers, after being cleared of misconduct charges.
Mrs Baird said: "Mr Ashman has exceptional experience of policing and has been a leading member of the senior leadership team here in Northumbria for a number of years.
"He has been behind many initiatives that have improved policing across the force area, and being local to the area he is proud of the region and wants to work with partners to make a difference.
"I have every confidence in his capabilities to lead Northumbria Police in the future and I look forward to working with him."
Mr Ashman, from Jarrow, South Tyneside, joined Northumbria Police in 2009 as an assistant chief constable.
He began his career at the Metropolitan Police in 1987, serving as a constable on London's Broadwater Farm estate.
He has also worked for Cleveland Police.
He said: "These are challenging times for policing, but this is Northumbria, we have great people who achieve great things every day and I am confident we will respond to the challenges that lie ahead positively and with a sense of pride in the service we provide."
Ms Sim will officially stand down on 4 June after 30 years service - 11 of them with Northumbria Police.