Danielle Formosa death: Coroner concerned over hanged girl's care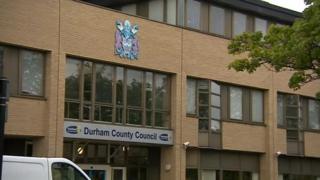 A coroner has said a 14-year-old girl found hanging at a County Durham children's home had "fallen through the cracks" of the child protection system.
Danielle Formosa had a troubled history and may have been sexually exploited, the inquest in Crook was told.
She was moved from secure accommodation to a home in Consett two weeks before she died in December 2013.
But confusion over who should carry out a psychological assessment meant one was never done.
The inquest heard Danielle had written "RIP Sarah" on her hot water bottle in tribute to a Facebook friend who was also in care and had recently died suddenly.
Coroner Andrew Tweddle found that Danielle, from Sunderland, had taken her own life and recorded a conclusion of suicide.
'RIP Sarah'
A serious case review will report into Danielle's death, and that of Sarah Clerkson, also 14, and in care and from Sunderland, who was found hanging at a party the same month.
At a separate inquest last week Mr Tweddle recorded an open verdict into Sarah's death, as he could not be certain she meant to kill herself.
Det Con Lindsey Hill of Durham Police told the hearing there were no suspicious circumstances to Danielle's death.
She was found hanging in her bedroom by David Grayson, manager at East Farmhouse children's home.
A note she left was found on her bed. Police later found she had written "RIP Sarah" on her hot water bottle. Mr Tweddle said he was "reasonably confident" that referred to Ms Clerkson.
Earlier, Mr Grayson said Danielle had told him she knew Sarah, after she heard about her death. But staff at the home, which only housed one other child at the time and has room for four young people, had no concerns she was about to harm herself as a consequence.
Stephen Mason, a senior child protection manager with Sunderland Council, said Danielle had been known to children's services since she was six.
He said she had taken legal highs and there were concerns she was sexually exploited to pay for them.
'Happens too often'
Eventually, concerns about the risks she was placing herself in led the council to obtain a court order, placing her in secure accommodation in the September before she died.
Mr Mason said a review on 28 November found she could be moved to "semi-secure" accommodation. But no psychological assessment was carried out first, despite a social worker highlighting the omission.
The inquest heard that was because officials in Sunderland and at the secure accommodation each believed the other was due to carry it out.
Mr Tweddle said: "It happens far too often that we see in the papers, hear on the radio or see on the television this type of issue where someone seems to fall through the cracks in the system."
Mr Mason said lessons had already been learned from the serious case review, which has not yet been published.