Newcastle axe man Tasered for 'aggressive manner'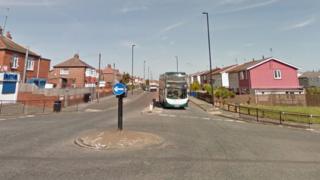 Police Tasered a man with an axe following an incident in Newcastle.
Officers were called to a roundabout on Welbeck Road after reports of a man in distress at 18:50 BST on Monday.
Northumbria Police said the 29-year-old suspect "had an axe at his feet and was indicating he had a concealed weapon".
He was Tasered when he approached officers "in an aggressive manner" about an hour and 45 minutes after police were called to the scene.
The force said he was arrested for "outstanding matters".