Newcastle fan fined for running on pitch during derby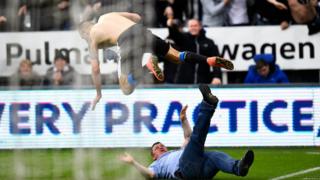 A Newcastle United fan has been fined after running onto the pitch during a derby with Premier League relegation rivals Sunderland.
John West went onto the pitch to hug Aleksandar Mitrovic after the Newcastle striker scored a late equaliser.
The 35-year-old from Durham pleaded guilty at Newcastle Magistrates' Court to going into a match playing area.
He was fined £240 with £85 costs and will return in May to hear whether he will be given a football banning order.
An interim banning order is in place, police said.
Mr West was one of 20 people arrested after the 20 March game.