Gateshead Council leader Mick Henry to step down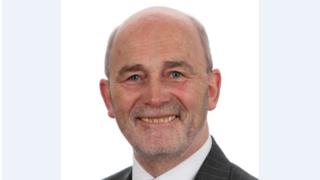 Gateshead Council leader Mick Henry has announced he is to stand down after 14 years in charge.
Labour councillor Mr Henry said it was time for others to lead the authority through "the increasingly turbulent and challenging times ahead".
It comes shortly after the council voted to reject the government's proposed North East devolution deal despite him giving his backing to the plan.
He will leave the post next month.
In a statement, Mr Henry said it felt "like the right time to stand aside".
Gateshead was the only one of seven North East councils to vote against the devolution scheme and it has been reported it could mean it would miss out on billions of pounds of funding.
The councils will make a final decision on 13 May.
Gateshead has had to make budget cuts of more than £100m since 2010.
Jonathan Wallace, leader of Gateshead's Liberal Democrats, said Mr Henry was a "pragmatic and level-headed leader" and he expressed concern the council could be left in a precarious position by the leadership election.
Mr Henry was seen as a key figure in Gateshead's focus on public art to help regenerate the borough with the Angel of the North and Millennium Bridge bringing national attention.
He was re-elected as a ward councillor for Saltwell on a four-year term in 2015 and will continue to represent the area.
A third of the council's seats - one in each of the authority's 22 wards - are being contested in the elections on 5 May. Gateshead currently has 55 Labour councillors and 11 Liberal Democrats.
Analysis by Fergus Hewison, political reporter, BBC Newcastle
Vote left leader out on a limb
It became pretty obvious that once Gateshead decided not to take part in the devolution deal and the other six councils said they would do so if certain conditions were met that Councillor Henry might not be able to carry on.
His resignation statement doesn't cite the devolution issue as a reason, but there's no doubt it's played a major part. He made reference to cuts, but it's most likely that phrase is a not-so-veiled reference to what life might be like outside the devolution deal.
Mr Henry has always had doubts about devolution and said he'd only go ahead with it if he thought it was a good deal for the people of Gateshead. But he also said that "not trusting the Tories was not an objective reason" to oppose it.