Wheelchair user Steve Wilkinson takes 16 hours visiting all 60 Metro stations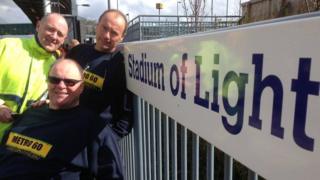 A wheelchair user spent 16 hours getting on and off at all 60 of the Tyne and Wear Metro stations to raise cash for charity.
Steve Wilkinson, who calls himself Wheelchair Steve, braved hail and snow to complete the challenge and raise £3,000 for 11 different charities.
The Metro60 challenge set off from Newcastle Airport at 06:00 on Tuesday ending at St James' Station at 22:00.
Mr Wilkinson said fish and chips at South Shields helped him through.
He was accompanied by two friends, Paul Lawton and Phil Pugh, and among the charities to benefit are Hope 4 Kidz and the Heel and Toe Children's Charity.
Mr Wilkinson is the founder of International Wheelchair Day.