Rural County Durham schools saved from closure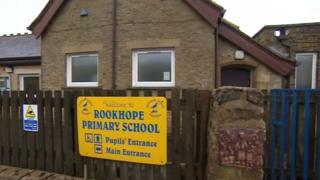 Two Durham Dales' primary schools will remain open and two others will not be merged after meetings between council officials and teachers.
Durham County Council had proposed closing Forest of Teesdale and Rookhope primaries and merging St John's Chapel School with Wearhead Primary.
The authority had blamed low pupil numbers.
It has now decided the first three will stay open with a shared headteacher while Wearhead will carry on as normal.
'Best news ever'
Councillor Ossie Johnson, cabinet member for children and young people, said: "That will maintain what we have, with around 50 children across the three sites, and means we will not have to consult on the closure of any schools in this area at this time."
The council said "continuing financial pressures and fewer children in some areas" had meant it had put forward the closure and merger proposal.
Ruth Nattrass, who campaigned against the closure of Rookhope, said she was delighted the school would remain open.
She told BBC Tees: "It's the best news ever, more than we could have hoped for.
"It's a David and Goliath moment, people were saying bigger is better, if you come from a small school you won't have any confidence and you miss out educationally but that is just not the case.
"We truly believe it is such a luxury to have so much one-to-one time for our children."