Northumbria Police legal boss 'gossiped' to 'bolster' self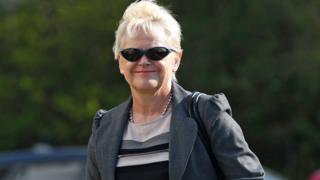 A police force's legal boss disclosed confidential details about an alleged affair to "bolster herself" in the eyes of colleagues, a tribunal heard.
The case brought by Denise Aubrey has heard about alleged affairs between senior officers at Northumbria Police.
Ms Aubrey is claiming unfair dismissal after being sacked in 2014, which the force denies.
A disciplinary hearing in 2014 found her "gossiping" constituted gross misconduct.
The employment tribunal in North Shields has heard about alleged affairs between senior officers, including one between former Chief Constable Mike Craik and Assistant Chief Constable Carolyn Peacock.
The hearing was told Mr Craik was accused of lying to cover up the relationship and was punched at a barbecue at his home by Mrs Peacock's husband, Jim, a chief superintendant.
Mr Craik was advised by Ms Aubrey - then head of legal services for the force - about libel when reporters began to make inquiries into the allegations in June 2007.
Helen King, former Deputy Chief Constable for Cheshire Police, chaired a disciplinary hearing in 2014, after Ms Aubrey was accused of gossiping about the rumours with colleagues during a meeting.
Ms King, who has since moved to the Metropolitan Police, said in her witness statement Ms Aubrey had a "professional obligation" to keep the information confidential." and "without trust, she could not be an effective director of legal services".
"My decision that the allegation should be categorised as gross misconduct was also influenced by the fact that Ms Aubrey's breach of trust was not inadvertent, but was rather a deliberate sharing of information to bolster herself in the eyes of those present at the meeting," she added.
The case continues.