Two more people arrested over Blyth park dog attack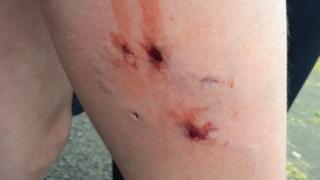 Two more people have been arrested in connection with a dog attack at a play park which left 11 children injured.
The Staffordshire bull terrier was restrained by a parent after biting the children in Blyth, Northumberland.
Three of the children were kept in hospital overnight after the attack on Wednesday.
A 34-year-old woman and a 42-year-old man have been arrested on suspicion of having a dog dangerously out of control.
A 37-year-old woman who was arrested on Thursday for the same offence has been released on bail.
Supt Mick Paterson said, though rare, it had been "traumatic incident".
The father of one of the injured children managed to tie the dog to a fence with a cardigan before police arrived to transport it to kennels.
Adam Mulvey, who lives next to the park, said everyone had been "screaming, howling, it was just horrific".
He said there was a possibility his seven-year-old daughter might need skin grafts.
Stevie Brooke-Maddison, 12, said children were at first "laughing, because it was just jumping up and being silly".
"And then one minute it just snapped and was being vicious and went for everyone," she said.
"I climbed up a climbing frame but it jumped up and latched onto my leg, I was kicking but it wouldn't let go."