Child sex abuser and drug dealer Akan Hosen jailed for 21 years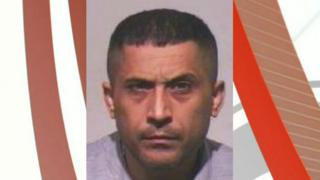 A drug dealer who sexually abused four teenage girls over a seven year period has been jailed for 21 years.
Akan Hosen admitted 21 offences at Newcastle Crown Court, including sexual activity with a child.
The court heard Hosen, of Derby Street, Sunderland, abused the children, who were aged 13 to 16, between 2006 and 2013.
He was also jailed for drugs offences after police seized heroin, mephadrone and cannabis during a raid.
Northumbria Police spent months carrying out surveillance on the 42-year-old.
A force spokesman said: "Undercover officers were able to infiltrate Hosen's organised crime group to gather evidence against him and his associates.
"In June last year [he] was arrested on drug offences and remanded in custody and with Hosen behind bars, an investigation into his sexual abuse gathered pace and his victims bravely came forward to police."
Hosen also admitted possession of a firearm, an assault and perverting the course of justice.
He will spend an extended five years on licence.