Woman charged after 11 children bitten by dog in Blyth park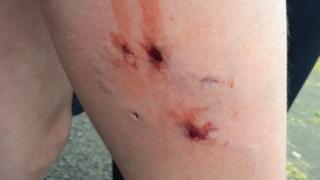 A woman has been charged after a dog bit 11 children playing in a Northumberland park.
Nine of them were taken to hospital and three were detained overnight after the attack in the park on Burns Avenue, Blyth, on Wednesday.
Claire Neale, 37, of Chasedale Crescent, Blyth, was held on suspicion of having a dog dangerously out of control.
She will appear in court in Newcastle later on Saturday.
Two bailed
The dog was restrained when a father of one of the children tied it to a fence using a cardigan before police arrived to transport it to kennels.
Supt Mick Paterson, of Northumbria Police Northern Area Command, said: "Investigations into this incident are ongoing and I urge anyone with any information to contact the police."
Two other people, a man, aged 42, and a woman, aged 34, have been bailed in connection with the incident which involved a Staffordshire bull terrier.