Northumbria Police ex-legal boss 'showed off' knowledge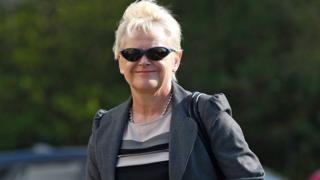 A former police head of legal services told colleagues about senior officers' alleged affairs to prove how close she was to the men, a tribunal has heard.
Denise Aubrey, 54, was sacked from Northumbria Police for gross misconduct in 2014.
She supposedly revealed details about a relationship between ex-Chief Constable Mike Craik and former Assistant Chief Constable Carolyn Peacock.
Ms Aubrey is claiming unfair dismissal, harassment and discrimination.
The force denies the allegations. Mr Craik and Mrs Peacock also deny they had an affair.
'Unprofessional behaviour'
The tribunal previously heard the former chief constable was accused of lying to cover up the relationship and was punched at a barbecue at his home by Mrs Peacock's husband, Jim, a chief superintendant.
Ms Aubrey was also said to have revealed Assistant Chief Constable Greg Vant had an affair with Mr Craik's secretary.
Mr Vant has said their relationship only started after they left the force.
As director of legal services Ms Aubrey gave professional advice about both allegations at the time.
Angus Moon QC, for the police, said Ms Aubrey had "no proper grounds to share" information about Mr Craik and Mr Vant.
"She did so in order to demonstrate how good her relationship with these former chief officers had been," he said.
She "compounded that unprofessional behaviour" by successfully arguing Mr Craik's name should be revealed in the media, he said.
'Like wildfire'
Ms Aubrey has told the hearing she suffered from mental health problems.
Of her claims she was bullied by current Chief Constable Steve Ashman, who was deputy at the time, Mr Moon said the evidence was "inconsistent with the suggestion".
Daphne Romney QC, for Ms Aubrey, said knowledge of the allegations was widespread and journalists had tried to confirm the story at the time.
She added: "It is obvious the topic of Mr Craik and Mr Peacock and an alleged scuffle went around the force like wildfire."
A decision by the tribunal is not expected for about five weeks.