Alcan Lynemouth smelter chimneys demolished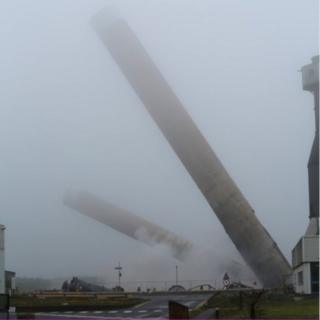 Eight chimneys that dominated the Northumberland skyline have been demolished, marking the end of four decades of aluminium smelting.
Owners Rio Tinto Alcan mothballed the plant in Lynemouth in 2011 due to the high cost of energy, with the loss of 515 jobs.
Work to decommission the site has been carried out since 2012.
A Northumberland County Council spokesman said it was a step towards a "brighter future" for the county.
It is hoped new investment and jobs will be created at the site.
Site owner Harworth Estates, said a number of controlled explosions were carried out to demolish the chimneys.
The Lynemouth smelter, which opened in 1972, was estimated to contribute £60m to Northumberland's economy.