Tyne Rowing Club's £1m boathouse officially opened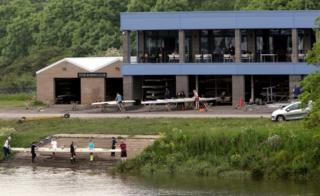 One of the country's oldest sporting clubs has officially opened its new £1m boathouse.
Tyne Amateur Rowing Club (ARC), which dates back to 1852, has built new facilities with help from a bequest from former member John Dalkin.
Honorary vice-president Ian Boyd said they had built a "state of the art rowing club which is was one of the finest in the country" in a year.
It has "excellent" storage facilities for boats and training, he said.
The club's rowers have competed at the highest levels of the sport.
Former Tyne ARC junior Will Fletcher is due to make his Olympic debut at Rio 2016 after being selected for the lightweight men's double scull.
The Duchess of Northumberland, who opened the facility in Newcastle, said rowing on the Tyne was part of the area's history.
"A lot of people who were involved in heavy industry would do this as a sideline," she said.
"It's really wonderful to see that we're not sweeping that history under the carpet, that actually we're recognising it and it's flourishing."
The building in Newburn also has facilities for local charities including the Percy Hedley Foundation, Norcare, Veterans at Ease and Visually Impaired North East.