Sunderland International Airshow takes off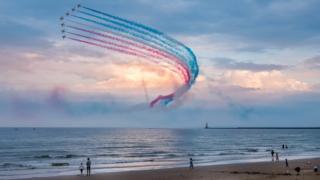 Thousands of people gathered at Seaburn and Roker seafront for the Sunderland International Airshow.
The three-day event opened on Friday evening with an aerial display, fireworks, live music - and a proposal.
Singer Ste Johnson was performing on stage at the event when he asked his partner Mags Foster to marry him.
Sunderland City Council said 2015 saw one of the show's "best days ever" on the Saturday, and a total of one million spectators overall.
Attractions over the weekend included parachutists and a Battle of Britain memorial flight.
Councillor John Kelly said: "We are very proud of our fantastic Sunderland International Airshow.
"We have some teams coming here for the very first time and I'm sure the crowds will give them a huge warm welcome they will remember for a long time to come."