Two hurt in Dudley car bungalow crash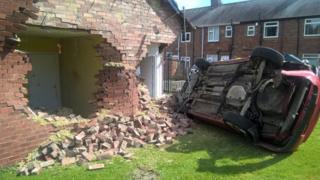 A bungalow has been left with a gaping hole in its side after a car ploughed into it.
Part of the property has been reduced to a pile of rubble following the crash in Northern Terrace, Dudley, North Tyneside, at 10:16 BST.
The two occupants of the vehicle were treated at the scene then taken to hospital but their injuries are not believed to be serious.
One man was in the property at the time and was left shocked but unhurt.