Newcastle Falcons' Zach Kibirige ignored 'no sex' plea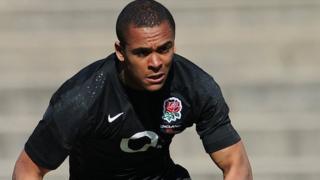 A professional rugby player raped a woman several times after ignoring her demands to "pack it in", a jury heard.
Zach Kibirige, 21, who plays for Newcastle Falcons, was invited to the woman's house to "watch a film and have a cuddle".
But once there he "used fear and force to get what he wanted", his trial at Newcastle Crown Court was told.
He denies four counts of rape, attempted rape, sexual assault and a further assault charge.
'Fear takes hold'
Chris Smith, prosecuting, said Mr Kibirige had said to the woman, who he met on the dating app Tinder, "you know you want it - tell me you don't want this" as he sexually assaulted her.
Mr Smith added: "But she didn't want it and couldn't tell him. Sometimes when you're frightened it's impossible to shout out. Fear takes hold."
The prosecution alleged the woman, who cannot be identified, did not need to say "no" at that point as she had already told him what she expected when she invited him to her home in November.
Mr Smith said: "She could not have been clearer because [she] had only invited this defendant round to her house for a film and a cuddle."
He said the woman told him to "pack it in" after Mr Kibirige started kissing and touching her.
'No confusion'
The prosecutor said: "The bigger, faster and stronger professional rugby player was not listening and he used fear and force to get what he wanted, and then he left."
The complainant told a friend what had happened and she furiously sent him an online message, accusing him of rape.
Mr Smith said: "His reply? Silence. His response? Simply to delete the messages that had passed between himself and [the complainant], to break contact."
The prosecution told the jury: "This is a simple case, there really was not any room for confusion, or mixed messages.
"This was simply a young man out for what he thought he could get and what he thought he could get away with."
The trial, expected to take around three days, continues.