Man rescued after new car beach drive goes wrong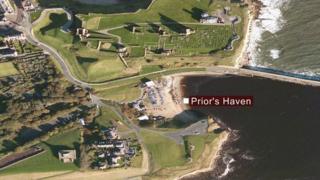 A motorist spent six hours stranded in his new car after taking it to a beach for a late night test drive.
The man's Daihatsu Terios mini 4x4 became stuck in soft sand and lodged on a piece of driftwood at Prior's Haven in Tynemouth on Wednesday evening.
Four members of the Tynemouth Volunteer Life Brigade managed to pull the vehicle to safety at about 04:45 BST.
A brigade spokesman said the man had only bought the 14-year-old vehicle the previous day.
He had one passenger, believed to be his partner, and a dog with him.
Though it was not at imminent risk of being swept away, the vehicle had become stuck below the high water line so needed to be removed before it became a potential hazard to boats, the spokesman said.
Peter Lilly, captain of the brigade, said: "The sand on the beach is notoriously soft. The back wheels became wedged on a piece of wood."