Ex-Peterlee mayor Lee Cook tried to meet boy, 15, for sex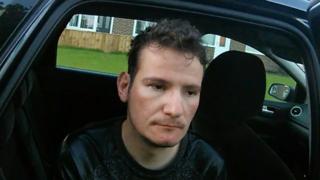 A former mayor has been jailed for 12 months after he was caught trying to meet an underage boy for sex.
Lee Cook thought he was talking online to a 15 year old, but was confronted by members of so-called paedophile hunters Guardians of the North, in August.
Cook, 30, had been the youngest ever mayor of Peterlee in County Durham.
Durham Crown Court heard Cook, of Quantock Place in the town, admitted trying to meet a boy under 16 following grooming, at an earlier hearing.
He was ordered to sign the sex offenders register and not to have any unsupervised contact with under-16s.
The North East Party, of which Cook was a member, said in a statement he had been suspended and Peterlee Town Council added that he had resigned before the court hearing.
Cook was caught after getting in touch with what he thought was a 15-year-old boy on a gay social networking app.
He had in fact made contact with Guardians of the North, which tries to trap child sex offenders.
Cook arranged to meet the boy at a bus stop on 5 August near his home, but was instead confronted by members of the group who filmed the meeting and called police.
He later claimed he thought he was in contact with an adult.
The court was told Cook sent sexually explicit photos during the online chats.
In mitigation, the court heard Cook had "worked for the community and helped people".
But Recorder Peter Makepeace, told him: "You thought you were going to meet a child. That offence is too serious too suspend."
After the hearing, Kay Bell, of Guardians of the North, said: "He was blatantly lying. Our decoy stated in a message that he was 15."