Owls found in Lindisfarne Castle toilet chute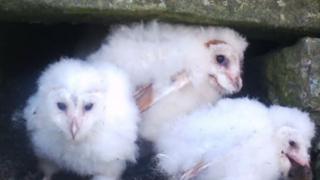 A family of barn owls has been discovered nesting in a castle's latrine chute.
The birds were found at Lindisfarne Castle on Holy Island in Northumberland during a £3m restoration.
The National Trust said a 65ft (20m) exclusion zone had been set up to protect the two adults and four chicks.
The castle will remain closed to the public until April 2018 while work to repair weather damage and make the building water tight is carried out.
The four chicks are believed to be days from fledging.
Matthew Oates, nature specialist at the National Trust, said: "We need to allow nature to move in where it chooses, and give it the time and space it needs."