Blyth dog attack: Woman admits owning dog that bit children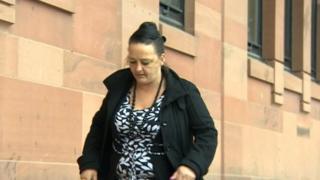 A woman has admitted owning a dog that attacked a group of 12 children in Northumberland.
The Staffordshire bull terrier bit the children when it escaped from a house in Blyth in May last year.
Claire Neal, 38 from Blyth, admitted at Newcastle Crown Court owning the dog named Marley that was dangerously out of control.
Leanne Patterson, 35, is accused of being in charge of the animal, but has not entered a plea.
Both are due in court on 12 December.
Ms Neal was remanded in custody, while Ms Patterson was released on bail.