Car crashes into garden wall and house in Ashington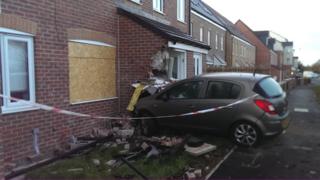 A car crashed into a house in Northumberland, destroying the garden wall and porch.
Residents of Wingate Way in Ashington said it happened at 20:30 GMT on Tuesday.
They say the houses are too close, about 15ft (4.5m), to the 60mph road and want the speed limit reduced.
Northumberland County Council said it would "consider any road safety improvements that would be appropriate" once it knew the accident's cause.
One resident, who asked not to be named, said the car came round a bend and veered across the road before crashing into the house.
Gas and electricity services were there "all night" dealing with meters in the porch, they said.
They added that they had been told the car could not be moved until both could be made safe.
The car hit the garden wall before the house and one resident believes those without porches and walls are even more vulnerable if it happens again.
One resident said they had lobbied local councillors for a nearby 30mph limit to be extended.