Northumbria Police weapons surrender haul in the hundreds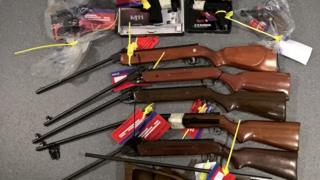 Hundreds of weapons have been handed in to police forces in the north-east of England during a two-week surrender.
Machine guns, hand guns, air weapons, rifles, a pump-action shotgun and a converted walking cane had been given to Northumbria Police, the force said.
Other forces have yet to collate figures for the scheme, which ends on Sunday.
Ch Insp Dave Gould said every weapon retrieved "can potentially save a life".
"Many items that have been handed in are from people who have found items during a house move, or after a relative's death and have been unsure of what to do with them or how to handle the firearms," he said.
"This surrender has been the perfect opportunity to get these types of weapons off our streets and safely disposed of."
Police forces said those handing in weapons would not be punished for possession, however they could face action if they were subsequently connected to a crime.
Northumbria Police said, at the last count, 194 weapons had been handed in.
They included 88 air weapons, 69 viable firearms, 29 imitation firearms, an electric stun weapon, a flare gun, war trophies, three machine guns, an AK-47, a pump action shogun and thousands of rounds of ammunition.
A converted walking cane and a fully functioning .308 German rifle with live rounds would be offered to the Imperial War Museum, the force said.
More than 6,000 weapons were handed in during the last national gun surrender in England and Wales in 2014.
Crime involving firearms in the two nations rose by 27% in the year to June 2017, the latest Office for National Statistics figures suggest.
Police had said they were "realistic" they were not going to have arms handed in by "hardened gang members".