South Tyneside baby care unit hit by staff shortage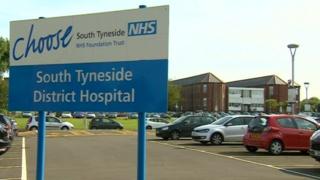 Services at a special care baby unit have been suspended due to a shortage of qualified staff.
The facility at South Tyneside District Hospital, in South Shields, is facing "significant and ongoing" pressures.
South Tyneside NHS Foundation Trust said it was necessary to ensure the "safety and wellbeing of newborn babies who require special care".
The suspension, effective immediately, is in place until the new year when a review of staffing will take place.
The trust said "critical rota gaps have proved difficult to fill, which have left the service increasingly fragile".
While care at the unit is suspended, the hospital's maternity department will only handle "low-risk" deliveries.
Expectant mothers classed as "high risk" will be contacted by staff and alternative arrangements made.
'NHS staffing crisis'
Dr Shahid Wahid, the trust's medical director, said: "There are many vital quality and safety standards that we simply must comply with and the ongoing pressures on our workforce have reached a critical tipping point this week."
Glenn Turp, regional director for the Royal College of Nursing (RCN), said: "The hospital was right to put patients' safety first, but this brings the NHS staffing crisis into sharp focus.
"Pressures on staffing have reached an unsustainable level right across the NHS, with trusts really struggling to retain and recruit valuable nursing staff.
"Improving staff morale and pay is part of the solution to the staffing crisis."
The special care unit has six cots, however staffing issues have resulted in no more than four being made available over the last few months.
Its long-term future formed part of a recent consultation exercise and a decision is expected in February 2018.