Beamish Museum seeks builders to 'make history'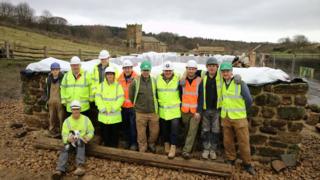 A museum in County Durham is seeking construction workers "to help make history".
Beamish Museum is undergoing an £18m expansion project, which includes a 1950s town and farm, and expansion of the Georgian-themed landscape, with a coaching inn for overnight visitors.
It will create up to 100 jobs, the museum said.
Bricklayers, stonemasons, joiners, electricians and plumbers, are being asked to get in touch.
Michelle Lagar, from Beamish, said: "Our in-house buildings team has extensive experience in creating both historical and modern buildings but, to deliver a project of this size, we need to grow our construction capacity.
"We'd like to hear from people who have an eye for quality and attention to detail and are available for short and long term contracts."
The museum will remain open throughout the building programme, which is expected to take three to four years' and once complete attract an additional 100,000 tourists to the region.