South Tyneside Hospital's childbirth services to resume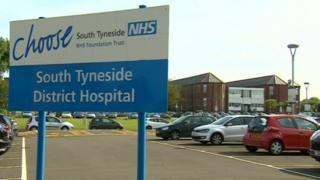 Childbirth services are to resume at a North East hospital following a suspension due to staff shortages.
All deliveries at South Tyneside District Hospital, in South Shields, were halted on 4 December 2017 in the face of "significant and ongoing" pressures.
The suspension will be lifted on Monday 22 January.
South Tyneside NHS Foundation Trust said a "safe staffing rota has been secured for the next three months".
It added it would look to address its rota beyond that period and said services at the hospital's Special Care Baby Unit (SCBU) remain "very fragile", with the situation being monitored daily.
Dr Shahid Wahid, medical director at the trust, said: "We are very pleased that we have been able to find a safe solution to the immediate staffing challenges in SCBU.
"I must stress, however, the SCBU rota we have been able to secure is for a three-month period only and is once again reliant on the tremendous goodwill of our amazing staff."
Childbirth services were suspended at the hospital's SCBU on 30 November, followed by a halt of all deliveries at the hospital less than a week later.
The trust had said it had been unable to fill "critical rota gaps" and about 160 expectant mothers were sent to neighbouring hospitals to give birth.
Consultation over proposed changes to healthcare provision in South Tyneside finished in October and a decision is expected next month.