Baby Paul Mitchelhill's death 'caused by surgeon's failings'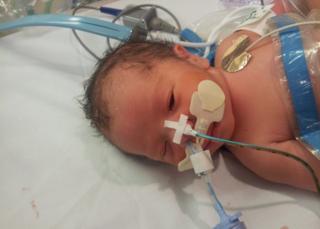 A surgeon's unnecessary operation on a one-day-old baby, and other failings, led to his death, a coroner has ruled.
Paul Mitchelhill, from Carlisle, died at Newcastle's Great North Children's Hospital in 2013.
Locum surgeon Emmanuel Towuaghanste, 62, did not thoroughly analyse the risks, coroner Karen Dilks said.
Mr Towuaghanste operated when no emergency action was needed and without discussing it with Paul's parents, Mrs Dilks said in a narrative conclusion.
Mrs Dilks said he also failed to recognise the symptoms of abdominal compartment syndrome, which the baby developed after surgery.
The surgeon did not give weight to his colleagues' opinions that Paul was very poorly and his condition was deteriorating, she said.
'Place our trust'
His failings contributed directly to the baby's death in October 2013, Mrs Dilks concluded.
Her findings will be passed to the General Medical Council.
In a statement, the baby's family said they had been surprised Mr Towuaghanste, known as Mr Towu, had decided to operate but "placed our trust in him as a surgeon".
"As a result of the failure by Mr Towu to recognise how sick Paul was nothing was done until it was too late.
"We faced the horror of losing our first baby boy and the trauma of him arriving home in a coffin."
Multiple organ failure
Before surgery Paul had been in a stable condition requiring limited support and did not need surgery straightaway, the hearing was told.
He had been born with exomphalos major, a rare defect which allows organs to protrude through the abdomen.
The operation led to multiple organ failure and he died the next day, the inquest has heard.
Opportunities to save his life were missed in the hours after surgery.
Mr Towu did not heed colleagues' concerns that the baby's condition was deteriorating.
If he had performed a second operation on the baby's abdomen sooner than he did, the child might have survived, the inquest was told.
The trust said it "very much regrets this tragic death" which it said had arisen because of the "refusal of a locum surgeon to respond to the professional concerns" of other staff.