Northumberland County Council-owned Arch 'spent thousands on foreign trips'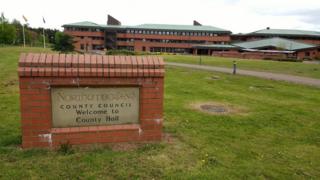 A council-owned property company spent thousands of pounds on first-class travel for delegates to exhibitions in Cannes and London, a report has said.
A "culture of entitlement" existed at Northumberland County Council-owned Arch over a four-year period.
Arch, now dissolved, spent £73,000 on trips and hospitality between 2014 and 2017, even flying a local taxi driver to France to ferry delegates around.
The council said it was "appalled" at "inappropriate use of public funds."
It said there had been financial impropriety and failings of governance at Arch.
As well as first-class travel, Arch also paid for accommodation and "high-cost meals and beverages" during seven investments conferences in Cannes and London.
Some £3,500 was also spent on sending a party of six, including guests, to a sporting event at Wembley.
The council's audit committee report concluded there was not always "evaluation of the benefit" of such trips.
Northumbria Police were called in last October to look at elements of Arch's operations, after a separate review found "failings in relation to the operating principles and fundamental purpose of Arch".
The force said it was still examining the council's findings.
'Serious failings'
Between 2014 and 2017 the council was Labour-run, but came under Conservative control during the last local elections.
The Labour group has accused the Conservatives of a smear campaign against the previous administration.
It said that Arch, dissolved last year, generated millions of pounds for the local economy, creating hundreds of jobs.
But in a statement, the council said: "An independent and strategic review of Arch highlighted a number of serious failings in terms of governance and financial impropriety.
"We are appalled at this inappropriate use of public funds.
"Any identified impropriety will be handled in accordance with standard policies and procedures."
It said interim governance and financial procedures had been in place since July 2017, "with robust management arrangements to ensure probity and transparency".
"A new development company is being created, which will have a greater focus on regeneration, place-shaping and delivering for the communities of Northumberland," it added.