Eel protection screen installed on River Wear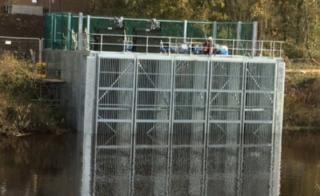 An eel protection screen has been erected on the River Wear
It will prevent endangered fish being killed or injured by being sucked into the Lumley water pumping station on the river at Chester-le-Street.
Northumbrian Water project sponsor Phillip Thornberry said: "Eels may not be the most attractive of creatures but they represent part of the UK ecology which must be preserved at all costs."
European eel stocks have declined "massively", the company said.
The number of young migrating into European rivers is less than 5% of 1980s levels, it added.
Eels Regulations were introduced in 2009 to reverse the drop in numbers of adult eels returning to the sea.
To achieve compliance with the legislation, further screens will be erected on the rivers Tyne, Tees and Coquet where water is taken to supply reservoirs and water treatment works.
The £11m project is expected to be completed by March 2020.
Environment Agency fisheries technical officer Robbie Stevenson said the screens would not only protect the eels but also "other fish and the wider biodiversity of the rivers in which they live".