Fire breaks out at Sunderland disused recycling plant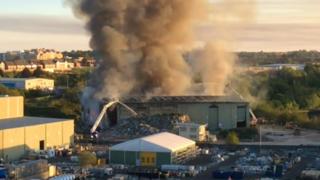 A large fire has broken out at a disused recycling plant in Sunderland creating a huge plume of smoke.
About 54 firefighters were called to Deptford Terrace shortly before 18:00 GMT to tackle the blaze.
Smoke could be seen as far as Redcar and people on social media reported seeing it in Hartlepool and Newcastle. There are no reports of casualties.
Residents have been advised to keep doors and windows closed. The cause of the fire is not yet known.