Bollard fears cancel County Durham pancake race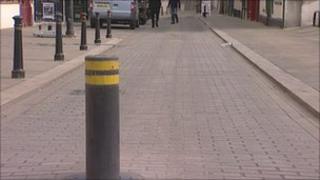 Concern over a "temperamental" bollard has lead to the cancellation of a pancake race in County Durham.
Bishop Auckland was due to host the event on Fore Bondgate but it was called off on the advice of police, who raised safety concerns.
It was feared that the rising bollard would fail, allowing traffic onto the street while the race was taking place.
Organiser Durham County Council said it hoped to provide back-up measures in future so the event could take place.
Lesley Zair, who runs a local cafe which would have provided the pancakes for free, described the decision as "disappointing".
"It is a free event for people in the town and has been well supported over the past couple of years," she said.
Her husband, Sam, added: "It's health and safety gone mad."
'Good fun'
Durham Police said in a statement: "The last thing we want to do is prevent events of this nature taking place as they are good for the area, however, we have to be certain road safety is not compromised.
"The security of the bollard is in question and, as the organiser of the event has failed to put countermeasures into place, we cannot support it on road safety grounds."
Peter McDowell, business service manager at Durham County Council, said: "The bollard can be temperamental and road safety advice from the police indicated concerns about its operation and the safety of pedestrians taking part in the race.
"Obviously we know this is a popular local event and we would very much hope to put in place the back-up measures required to make sure it can continue to be good fun for all again in future years."