Date for lovelorn swan at Washington Wildlife Centre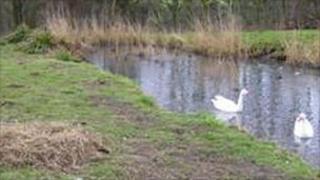 Staff at a Wearside wildlife reserve are celebrating after a lovelorn swan found a new mate following a Valentine's Day "date".
Following the death of her first partner in 2008, the female coscoroba swan at Washington Wetland Centre had been through a period of mourning.
An attempt to find a suitor had failed, so two potential mates were brought from the Martin Mere, Lancashire.
She made her choice and the pair are nesting, amid hopes they will breed.
Aviculture manager Owen Joiner said: "The boys arrived on Valentine's Day and the old girl lined them up at the back fence and spent all afternoon inspecting them.
"By the following day she had selected her new mate and before long they were nest-building.
"Today you can see them swimming side-by-side and preening one another, while the male is regularly spotted diligently carrying potential nesting material to his other half, who carefully inspects it and places only that of the highest quality in her nest.
"She has very high standards, but wouldn't you after waiting so long to settle down and start a family?"
Coscoroba swans look more like geese because of their small size and the fact that their beaks do not extend between their eyes, an area known as a "lore" on other swans.
Their usual habitat is South America.