Sunderland car workers in Japan 'safe and well'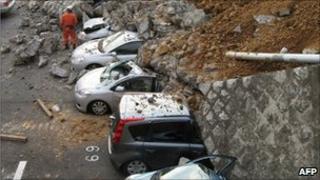 Bosses at Japanese car maker Nissan say they have made contact with 45 staff from its Wearside plant who were in Japan when the devastating quake hit.
Nissan, which employs 4,200 people in Sunderland, said it was unclear how the situation in Japan would affect production in the North East.
A spokeswoman said all the Sunderland employees were safe and well.
Some 10,000 people are feared to have died in the worst-affected area after Friday's quake and tsunami.
The spokeswoman said: "It has been difficult to make contact with colleagues in Japan since Friday.
"But we now know all our employees are safe and well."
The North East staff had been working at Nissan's four sites in Japan, all of which have now halted production. It is not yet known if they are being flown back to the UK.
Rescue team
One of the facilities is close to the Fukushima nuclear power plant which is thought to have experienced a meltdown. The others are south of Tokyo.
The spokeswoman added: "It is too early to say if production at Sunderland will be affected."
Staff in Sunderland, which includes many Japanese nationals, are expected to be briefed on the situation on Monday.
A British rescue team has arrived in Japan to join the search for survivors of the earthquake and tsunami.
In one town alone - the port of Minamisanriku - 10,000 people are feared dead, and efforts to find anyone alive are being hampered by aftershocks, continuing tsunami warnings and damaged roads.