Grenada Olympic team to train at Sunderland University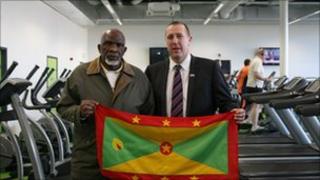 The University of Sunderland is to be the training base for Grenada's Olympic team ahead of the 2012 London Olympics.
The announcement comes three months after a Grenadian National Olympics Committee (GNOC) delegation spent a day touring the university's facilities.
The team also looked at the Stadium of Light, Sunderland Aquatic Centre and other city sporting venues.
The university hopes it will be the beginning of a longer-term relationship with the GNOC and Grenada.
Ivan Whitfield, director of sport at the university, said: "There has been a tremendous partnership effort between the University of Sunderland, Sunderland City Council and SAFC to make this happen, supported by One North East and other sporting facilities in the region.
"Their decision links in to what our university can provide in terms of sports science, sport medicine, injury prevention and treatment, which our on-site service undoubtedly appealed to the committee."
'Very impressed'
The team will train at CitySpace - a £12m sports and social facility which opened in late 2009.
It features a six-badminton court sports hall, a 70-station fitness gym, sports massage and injuries centre, an indoor climbing wall, as well as social, catering, leisure and exhibition facilities.
Once the Grenada Olympic team selection is complete, the 20 sportsmen and women will be living on campus for three weeks between 29 June and 20 July, before proceeding to the opening of the 2012 Games.
They will be eating, socialising, receiving treatment and holding team briefings at the university and using whatever sporting facilities they need.
Royston La Hee, GNOC president, said: "The facilities in Sunderland and at the university are excellent; I have been very impressed with what I have seen."