Eggs for Washington swan after match-making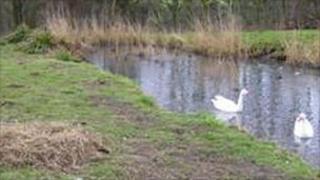 A swan couple who got together after a Valentine's Day "date" are now expecting the patter of tiny webbed feet.
Washington Wetland Centre's female coscoroba swan had been pining since the death of her original mate in 2008.
Staff brought in potential mates on Valentine's Day. The female chose one and they soon began nest-building.
Their first eggs have now been laid and more are expected with the cygnets due to hatch around Easter.