Warning after watercraft rescue off Sunderland coast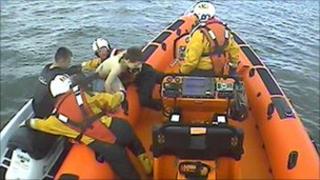 People using personal watercraft have been warned to take safety precautions after a man and 12-year-old boy had to be rescued by lifeboat.
After a mechanical failing, the pair drifted in a sea scooter off the Seaham coast in a strong off-shore wind.
A concerned member of the public noticed they had been stationary for some time and contacted the coastguard.
Sunderland RNLI lifeboat was called out and crew took them on board and returned them to the shore.
They had to be fitted with lifejackets and blankets to help keep them warm for the journey back.
Clive Fallon, helmsman at Sunderland RNLI, said: "We urge everyone taking to the water ... to ensure that they are wearing suitable warm clothing and a lifejacket or buoyancy aid which will help keep them afloat if they end up falling into the water."
"In an attempt to help reduce the number of similar incidents we urge all boat and watercraft owners to ensure that they follow our sea safety tips."
These include always carrying a means of calling for help, wearing a life jacket, checking conditions, and having sufficient knowledge of the activity.