Mother re-mortgages home to fund son's acting school dream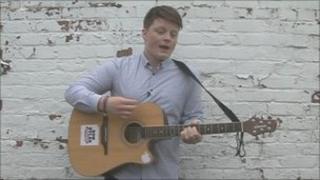 A Sunderland mother has re-mortgaged her home to send her son to a New York acting and drama school.
Anita Burns took the action to raise money from her terraced house in Roker to pay for her son Baden's school fees.
The 19-year-old has won a place at the prestigious New York Conservatory for Dramatic Arts (NYCDA) to study acting.
But it will cost £60,000 for the teenager to live and study in New York for two years. Ms Burns said she wanted to give her son an "opportunity".
Auditions for the NYCDA were held in London, and only five people from the UK won places.
Mr Burns said: "There were hundreds there at the audition - it was quite scary and I felt out of place.
"I didn't think I would get in and I thought I did a really bad audition.
"But it turns out that I got in. I've always been quite a shy person but when I'm on stage I can be myself and do whatever I want without being judged."
'No pressure'
The teenager plans to move to New York in August and has been busking and holding fundraising nights to raise money.
Ms Burns, a council worker, said: "It is what he wants to do and what he has been working towards for the majority of his life.
"I am just going to work all the time to get money so I will be busy.
"It's going to be tough, but there is no pressure, this is an opportunity and if anything comes of it, that will be fantastic.
"But even if nothing comes of it, at least he will have had the opportunity."