Terminally-ill Kelly Bainbridge-Flor's cancer warning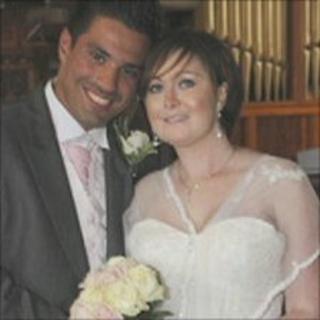 A terminally-ill bride from Sunderland who ignored a breast lump is urging other women to learn from her plight.
Two years ago Kelly Bainbridge-Flo found a lump the size of a 10 pence piece in her breast, but did not get it checked out.
The 27-year-old of Silksworth, was not diagnosed until a year later, and the disease has now spread to her brain.
Three weeks ago she married fiancée Dino, 27, and said it was her dying wish to save other lives.
The call centre manager was living in Madeira in Portugal when she found the lump.
She said she went to a doctor on the island who said she was probably too young to have cancer, so she delayed getting it checked out until she returned to the UK a year later.
She had chemotherapy and a double mastectomy, but doctors at Newcastle's Royal Victoria Infirmary have now told her that the cancer has spread to her brain and she has been given a week to live.
She said: "When I eventually found out I was absolutely shocked and devastated.
"I accepted it pretty quickly because I thought I was going to be alright, because the lump didn't feel that big because it was very far back in the breast.
"It was 13cm long so I thought I would just get it cut out and I'd be fine."
Mrs Kelly Bainbridge-Flo met her future Portuguese husband, a hospital worker, just after she had been diagnosed in April last year.
She said: "Dino has looked after me the whole time and knows the ins and outs of my condition."
The couple brought their wedding forward by a year and married at St Paul's Church, Ryhope, Sunderland, on 22 August.
She urged women who find a lump, no matter how old they are, to get it checked out.
She added: "Even if it is tiny - don't make my mistake and bury it in the back of your head.
"Please, if you do notice anything go and get it checked out."