Military policeman Simon Miller is honoured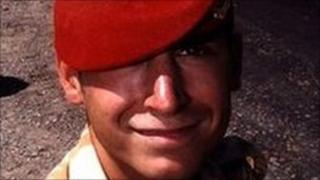 A military policeman who lost his life in Iraq has been remembered.
Corporal Simon Miller of Washington was among six people killed during an ambush at Al Majar al Kabira police station on 24 June 2003.
The 21-year-old was laid to rest at Washington Cemetery in Glebe, and on Monday his grave was visited as part of a pilgrimage.
Army Deputy Provost Marshal, Colonel Dudley Giles, visited the grave as part of a cycle ride remembrance trip.
Col Giles, who retires from the Army next year, is making a tour of the graves and resting places of 22 members of the Royal Military Police (RMP) who have died on operations in recent years.
He set off from Brackley, Northamptonshire, on Saturday and expects to cycle more than 2,000 miles around the UK before he finishes in Colchester, Essex, on 21 October.
He said: "We are a very small, tight-knit, regimental family and these deaths, and all of the subsequent deaths which befell our military police men and women in Iraq and Afghanistan, have hit us hard.
"This is particularly because, as policemen, we also have to investigate these deaths."