Man charged in Pelton ring theft inquiry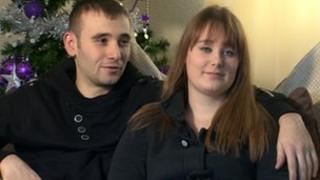 A man has been charged in connection with two County Durham house burglaries, including one in which an engagement ring was stolen.
Jason Lyon ended up asking Nicola Waites to marry him while they sat in a police van while their home in Pelton was dusted for fingerprints.
A 33-year-old man has been charged with two counts of burglary and appeared at Peterlee Magistrates' Court on Friday.
He was remanded in custody to appear at Durham Crown Court on 4 January.
A man and a woman who were earlier arrested in connection with the inquiry were released on bail.
Mr Lyon, 20, who had initially planned to ask his 21-year-old girlfriend to marry him on New Year's Eve, said the earlier than expected proposal was successful, despite the unusual circumstances.
The ring has not been recovered.