Soldiers and Royal Marine are repatriated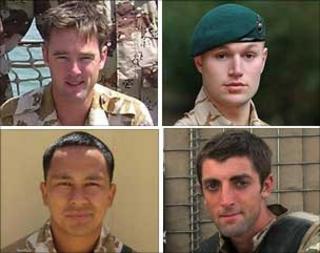 Four servicemen killed in Afghanistan on the same day have been repatriated back to the UK.
Maj James Joshua Bowman, 34, Lt Neal Turkington, 26, and Cpl Arjun Purja Pun, 33, died when they were attacked by a rogue Afghan soldier on 13 July.
Royal Marine Matthew Harrison, of 40 Commando, was shot dead on foot patrol the day before his 24th birthday.
Following a private ceremony, their bodies were driven through Wootton Bassett.
Maj Bowman, of 1st Battalion The Royal Gurkha Rifles, was from Salisbury in Wiltshire, Lt Turkington, also of 1st Battalion The Royal Gurkha Rifles, came from Portadown, in Northern Ireland, and Cpl Pun, also of 1st Battalion The Royal Gurkha Rifles, was from Khibang village in the Magdi District of Nepal.
Somerset-based Marine Harrison was from Hemel Hempstead in Hertfordshire.
Maj Bowman was the most senior member of British forces to die in Afghanistan since Lt Col Rupert Thorneloe, commanding officer of the 1st Battalion Welsh Guards.
Maj Bowman's family said in a statement: "He was the best possible son and brother who will be sadly missed by his family and many friends.
"He loved the Army and was very proud of the selfless work that he and his Company were doing."
Cpl Pun joined the British Army in 1995.
His wife Durga described him as "a tremendous husband".
She added: "He was proud to be a soldier and died doing a job he loved.
"We are devastated by the loss of Arjun who was a loving husband and father.
"We are proud of the fact that Arjun was prepared to do his duty helping the people of Afghanistan."
Lt Turkington's family said: "We are all so proud of him - we couldn't have asked for a finer son, brother and friend."
Marine Harrison's parents, Brian and Janette Harrison, said: "He was passionate about being a marine and serving out on the front line.
"He died doing what he said he 'needed to do'."
The attack that killed the three soldiers, in which four others were injured, is believed to have been carried out by Talib Hussein, aged 23.