Mechanics Institute in Swindon in 'depressing' state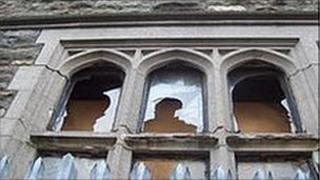 A Grade II* listed building at the centre of a restoration row with its private owner is in a "depressing" state, say council officials.
The Mechanics Institute in Swindon is owned by businessman Matthew Singh who wants to develop the property.
Swindon Borough Council seized control of the building in July, after an April deadline to provide a repairs schedule was missed.
Deputy leader Garry Perkins said: "What we have found is very depressing."
He added: "It's obvious even at this stage that it's going to take much more money than we have earmarked to stabilise the structure."
'Danger of collapse'
The council was given a grant of £250,000 by English Heritage to carry out the urgent works.
The council says the roof structure over one section is in danger of collapsing, there are high asbestos levels and lead contamination and the basement is flooded.
The Mechanics Institute opened in 1854 as an educational centre for railway workers, but closed in 1986.
It has been owned since 2002 by Mr Singh, whose Forefront Estates will be billed for the repair costs.
Owners of listed buildings have a legal duty to ensure they do not deteriorate.