Wiltshire temperatures 'could dip to -13C' overnight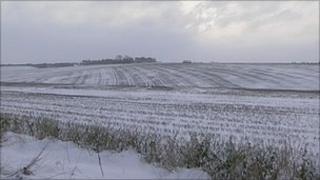 Some of the lowest temperatures for many years are being forecast for Wiltshire with -13C possible in some parts of the county overnight.
Heavy snow fell last night with up to 15cm (6in) over Salisbury Plain.
Many minor roads in the county were closed or impassable and 28 schools did not open.
Wiltshire Council said it had used 530 tonnes of salt by 0600 GMT on Friday and will continue to grit roads.
BBC weather forecaster, Richard Angwin, said: "Wiltshire will see some of the lowest temperatures recorded for many years with -13C possible in some of the coldest locations.
"At those temperatures the salt spread on the roads becomes ineffective so driving conditions could be extremely hazardous."
A Wiltshire Council spokesman said Cranborne Chase and Salisbury Plain had seen the most snow.
"In places we've had 15cm or so there, although the north of the county doesn't seem to be as badly affected," he added.
A full list of school closures and late openings can be found on the BBC Wiltshire website.