Scrapstore plea for premises after fire at Swindon HQ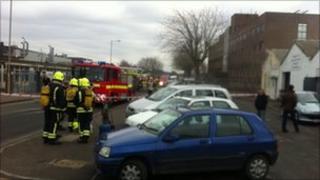 Staff at an environmental charity in Swindon are appealing for help to find a new home after their building was damaged by fire.
The blaze started at the Children's Scrapstore on Cheney Manor Industrial Estate at about 1200 GMT on Tuesday.
The charity hopes someone can provide them with premises while their building is repaired.
Scrapstore collects unwanted materials from businesses and then gives them to local children's organisations.
'Place destroyed'
Olivia McCann, project manager at the charity, said: "The back end of the building is completely burnt out. All the stock is ruined - it stinks like a really bad bonfire.
"I'm hoping to get it cleared up as quickly as possible and get some new premises and get Scrapstore started back up again. Everyone is devastated - it's a real shock.
"You come to work thinking everything is fine and within an hour you haven't got anywhere to work and the place is destroyed. We're just going to pull together and do what we can."
It is thought the fire was caused by water leaking into the electricity meter after problems with burst pipes between Christmas and new year.
Swindon Children's Scrapstore employs 5 members of staff and 12 volunteers.