Wiltshire chief constable raises parental control issue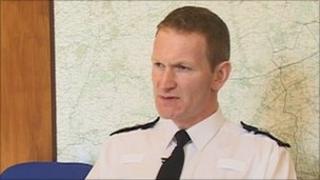 The chief constable of Wiltshire has written an open letter to local media raising the issue of parental control.
Brian Moore's concerns included social media and asked if parents knew what their children did and where they went.
He wrote the letter after coming across a group of unsupervised 13 to 15-year- olds, some of whom had been drinking, while on patrol in Melksham on Friday.
Mr Moore said he posed the question on parental supervision "not to accuse but to raise the issues".
He explained that he wrote the letter after taking part in the patrol in Melksham on 21 January.
'Threatened stabbing'
Mr Moore wrote that he and other officers had approached a small group of teenagers in a side street at about 2030 GMT for a chat.
He said he "was surprised to find a much larger group of around 30 to 40 children aged 13 to 15 years round the corner from the smaller group."
The officer said they "were noisy and most well behaved, but some were considerably more aggressive in their tone and actions".
He said he and his colleagues were told the teenagers had arranged to meet via social networking and text messaging because "one of the girls had threatened to stab another girl - and everyone wanted to see what was going to happen".
Mr Moore said that over the next one and a half hours, all available police resources in the area were used to deal with the incident.
'Trusting our children'
He said they arrested one of the teenagers for "being drunk and disorderly".
And that many of the teenagers "claimed to be on a sleep over".
The chief constable believed the children's parents were unaware of their whereabouts and behaviour.
He ended his letter with a request to the local news media to publish the letter in order to "stimulate debate".
"As a father myself I know that trusting our children is important, but surely supervising them is essential," he added.