Concern over nursing agency after child 'nearly dies'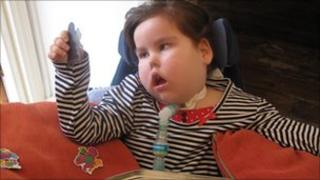 The family of a man who filmed an agency nurse switching off his ventilator has raised concerns after another incident involving a child.
Tetraplegic Jamie Merrett, from Wiltshire, set up a camera and recorded the act which left him brain damaged.
The BBC has learned that agency Ambition 24hours has now been given an improvement notice after a child's life was put at risk while in their care.
The nursing agency said it could not comment for reasons of confidentiality.
Jamie Merrett's sister said the agency should have "tidied up their procedures" after what happened to her brother.
The latest incident happened last year at the home of three-year-old Sophie Patmore, from Ash in Surrey.
She has a rare genetic condition, and needs round the clock care.
'Nearly died'
Her parents, Annette and Neil Patmore, said they were woken in the early hours of 24 April by Ambition 24hours agency nurse Regina Koennecke, who told them that Sophie "was turning blue".
They said Ms Koennecke was "panicking and shouting at Sophie and hitting her in the chest to try to revive her when she actually needed oxygen".
Sophie's parents said her ventilator was not connected to the tube in her neck, her oxygen levels had fallen to critical levels and the suction machine was completely full and not working.
Mrs Patmore said: "I came downstairs and she was really, really bad and in a terrible state and nearly died. Obviously you lose all your trust - it's all gone."
The incident, from which Sophie recovered, was referred to NHS Surrey and Surrey County Council social services.
Maggie Ioannou, from NHS Surrey, said: "At the time of the incident, Sophie's care was being provided by Ambition 24. The nurse on duty was suspended immediately."
The improvement notice requires Ambition 24hours "to strengthen the recruitment process and provide better training and supervision for staff in some areas".
Jamie Merrett, 37, was left severely disabled in January 2009 when an Ambition 24hours nurse switched off his life support machine by mistake.
Mr Merrett's sister, Karren Reynolds said: "After what happened to Jamie they could have learnt their lessons and tidied up their procedures so this would never happen again but they haven't."
Ambition 24hours said they took "care to ensure the highest possible standards" in the recruitment and management of agency nurses.
They said they were "working closely with local county councils to maintain and continuously improve standards."
The statement from the agency's lawyers added: "Ambition has confidentiality obligations to both clients and its nurses. It is therefore unable to comment on individual assignments."
Nurse Regina Koennecke, from Portsmouth, said: "I dispute the parents' version of events and find no fault with the agency.
"I still work for them and I'm still very happy with them."
Ms Koennecke has not been suspended by the Nursing and Midwifery Council but they are investigating the case.
See more on Inside Out West and Inside Out South on BBC One at 1930 GMT on Monday 7 February.