Taunton and Somerset NHS faces pay row legal challenge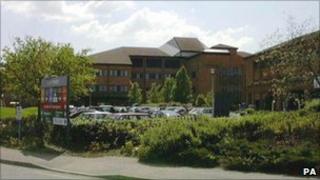 A legal challenge has been lodged against Taunton and Somerset NHS Foundation Trust for breach of contract.
Four separate unions claim the trust did not consult staff or negotiate with their representatives about reducing pay protection.
Musgrove Park Hospital in Taunton said it consulted over the change in April last year.
It said it considered the changes "fair and reasonable" in the current climate.
The claim was lodged by the Chartered Society of Physiotherapists, the Royal College of Nursing, the Society of Radiographers and Unison.
'No longer defendable'
In a statement, the union representatives said: "This action will have a long reaching and damaging effect on staff who are downgraded due to organisational change.
"It has also had a negative impact on partnership working between the trust and the unions as well as compromised staff confidence in trust management."
A spokesman from Musgrove Park Hospital, part of Taunton and Somerset NHS Foundation Trust, said: "Staff at Musgrove Park Hospital in Taunton receive up to 12 months of protected pay if they are moved to a lower banded post.
"Up until 2010 staff that were moved had their higher pay protected for up to four years.
"We believe that this is no longer defendable."