Devizes woman raffles New Zealand apartment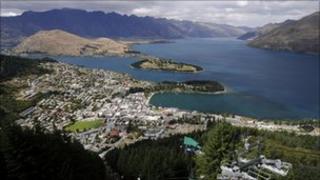 A Wiltshire woman is taking the unusual step of raffling off her New Zealand holiday home.
Pensioner Diana Scott from Coate near Devizes is selling her Queenstown apartment through an online raffle site.
Diana said: "It sounded like a lot more fun than selling in the traditional way."
She and husband Phillip had bought it as an investment but the recession hit just as they decided to sell it.
In the five years since they bought the property which is by a lake and surrounded by mountainous countryside, their initial 200,000 New Zealand dollar investment (£95,000) had not increased as much as hoped, so they decided to look at alternative ways of selling it.
The competition to buy their apartment in a hotel complex will run until November via the Scott's own Million Dollar Spa Homepage site, and is dependent on people purchasing online advertising space.
"It's actually more of a prize draw than a raffle," said Diana.
"My husband had noticed that there were people running online competitions to sell their properties and he suggested that we might try something similar.
"It also gives somebody who can't afford to buy a property like this the opportunity to have one."